Choosing the right new year planner for you!
December 20 2021 – jodie Sprules
Hello, Jasmine here!
In a few weeks time the hectic excitement of Christmas will be over and 2022 will be upon us. A New Year means new goals, new hopes, new socks…and a new planner! For stationery lovers, the best thing about a new year is a new planner as it marks a fresh chapter in life and the blank pages are opportunities to live, love and plan. If you've never used a planner before, then 2022 is the year to start! I'm here to present you with all the wonderful planners Carpe Diem have to offer, all perfect for beginners or planning experts.
Things to consider when choosing the perfect planner for you:
Size – Consider where you will be taking your planner and how much you need to write in there. Do you just need a small, on the go planner for reminders and small to do lists? Or would you prefer a larger one for daily notes and future plans?
Design – Whether it's minimal and mature or cute and colourful, we have the planner for you. We also have a range of stickers and inserts to help personalize your experience and make planning fun!
Decide what you'd like to achieve – What aspects of your life do you need to plan or is it all of them?! Maybe you'd like to specifically plan your finances or your housework. Consider whether you would like to improve your overall productivity, reach a life-changing goal or just need a planner to keep track of all your upcoming events.
Accessories – Some planners come with inserts, bookmarks, sticker sheets and more accessories to allow maximum personalization. Other planners are simply a blank canvas for you to make your mark.
Now let's discuss the different types of planners we have available and help you to decide which will be best for you in 2022!
Personal Planner
Our Personal Planners are available in a range of colours and designs. Measuring 7.48 inches x 6.42 inches, these planners are perfect for popping in your bag to help keep track of your daily to do lists. All our planners are undated which means you can start your planning whenever, but nothing says organised like starting your new planner in January!
When you buy a Personal Planner, you get more than just the planner. Within the neatly packed box you will find all the accessories you need to accompany you on your planning journey. Our Personal Planners come with; 2 Monthly Tabbed Dividers, 12 Monthly Calendar Layouts, 60 Horizontal Weekly Layouts, 12 Lined Pages, 12 Grid Pages, 12 Plain Pages, 2 Acetate Bookmarks, 1 Acetate Dashboard, 1 Dashboard Insert, 3 Sticker Sheets.
The 6 ring PU faux leather material planner opens completely flat meaning it's easy to write what you need, add new inserts and decorate. With four interior pockets and 2 side cover pockets, it is also great for keeping notes or receipts safe for future use. Conveniently, there's an elastic pen loop and the planner is decorated with a Carpe Diem metal charm.
The planner itself contains monthly and weekly layouts on high quality 120 GSM paper. Alongside this, there are planning and note sections included plus lined, grid and plain pages. The planners are ringbound which means if you do decide to start planning a little later in the year, you can move the monthly inserts around!
A5 Planner Box Set
The A5 Planner Box Set includes the same accessories and inserts as the Personal Planner. The only difference is the size; 9.4 inches x Width 8 inches  making it a larger planner – perfect for those of you who have larger to-do lists! With more space to plan and write, the A5 Planner is ideal for people with lots to remember. However, you don't always need a never ending to do list to enjoy planning. Planning can also be about creating a wonderful, personalized space that reflects your life and passions. These images below are just some of the ways our customers like to customise and decorate their planners: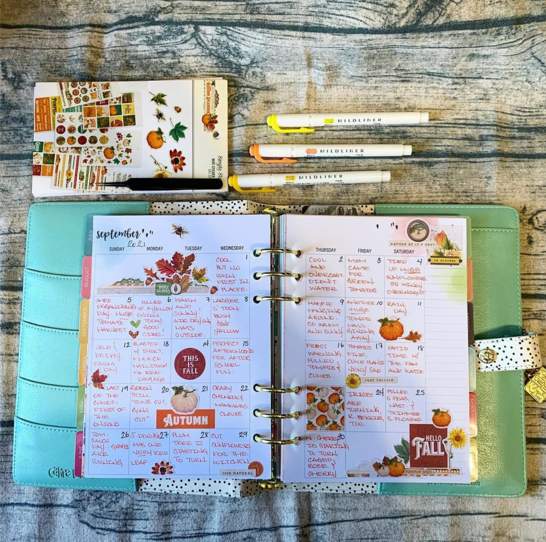 Planner picture from @onecraftydolo on Instagram
@beronikilla on Instagram using our Blush Personal A LA Carte Planner 
Budget Planner
Is 2022 the year you want to become a budgeting pro and get your finances in order? If so, this Budget Planner is perfect for you. Our Budget Planner is undated and includes 12 months of pages for you to use. The planner also comes with 183 stickers to help you make budgeting less boring. Whether you are looking to save for a big holiday or just get your finances in check, this planner is perfect for you.
To help you on your budgeting journey, the planner includes:
Budget overview
Savings and goals tracker
Donation tracker
Bill payment checklist
Debt payoff and tracker
Account tracker
Credit card and bank information pages
Note page
Monthly goal page
Monthly budget
Expenses page
Bills checklist
Home Planner
Keep life running smoothly with our Home Planner! Designed to be your personal assistant, the Home Planner is a place to keep all your ideas and plans organised and accessible. With pages for personal information, usernames and passwords, your contacts, and important dates the Home Planner is perfect for someone with a busy family life! 
We all lead such different lives, so it is important to choose a planner that will suit your unique lifestyle! 2022 is the year for you to live, love and plan!